Description
Why does your site need our Site Audit Plus?
Does YOUR website have the necessary content, functionality and easy to use navigation to make money for your business on the Search Engines like Google?
Click Add To Cart to purchase a 5 Page Site Audit at $100 per page, with SEO & Technical elements and let us troubleshoot your landing pages/website to identify problems.
What is involved in our different types of Site Audits?
 JumpStart Matrix will provide a Site Audit Plus (up to 5 Pages) starting at $500 + GST.*
$500.00Add to cart
Simple things, for example:
Is there a 'Call to Action'? (commonly referred to as a CTA)
Is the correct SEO technique used to display this Call to Action?
Is the Page 'optimised' for the Search Engines (and your visitors) to perform with the correct meta data?
Are you making the best use of your 'Virtual Real Estate'?
What IS your 'virtual Real Estate'?
Are your Images the right size and optimised?
There are many different components to any Site Audit. We need to discuss your site, goals and requirements
Schedule a Free Strategy Call
We can determine if your Landing page(s) are ready for marketing and promotion online. Don't waste your money until you know!
(*You can order as many pages as you need OR ask us to quote you if you have many.)

Technical SEO analysis and on-page optimisation demand solid data evaluation and a good deal of multitasking.
JSM accompanies its SEO Site Audits with visualisation of accurate data, things like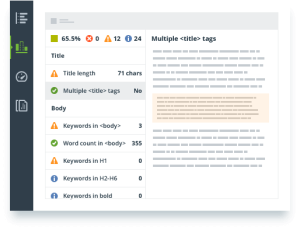 Technical website audit and fixes tips
On Page SEO Audit
Site structure visualisations
Content optimisation areas
*If you want or need more than 5 Website Pages reviewed, please Contact Us to discuss 

$500.00Add to cart
You may want to also get a
Keyword Research Report
or other in depth
strategic online marketing consulting
, to supplement your Site Audit Plus