JumpStart Matrix is a full service Online Marketing Agency specialising in Strategy Consulting..
We do whatever you need to get your business online and market it effectively.
Top 5 Things to know about JumpStart Matrix:
1. We have 35+ combined years in ALL areas/ channels of online/internet marketing
2. We have worked in many different niche's or industries. We can work with you no matter WHAT you do or sell.
    Our Process will bring results.
3. That we do not "guess" what is needed when working with any client – we work with your Data
4. That we partner with you – we really care about you & your business (read our Testimonials)
5. That our Strategic Consulting approach works!
We have an experienced team.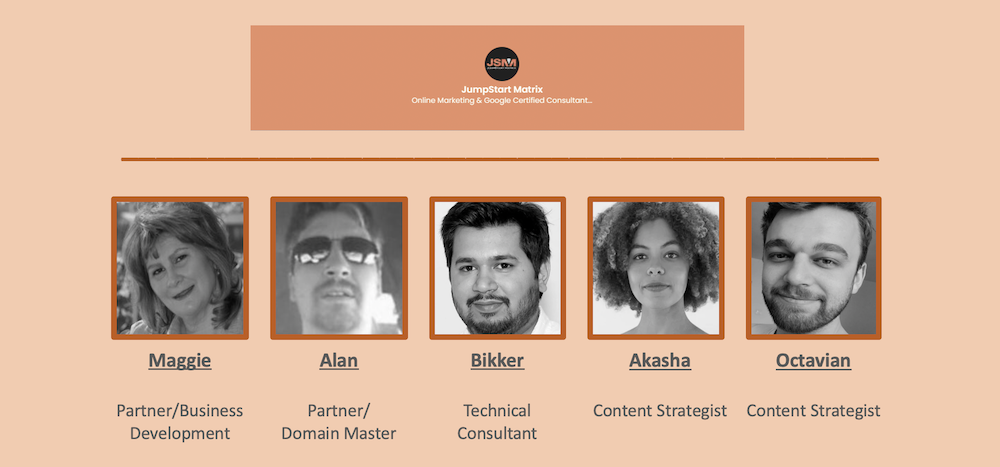 What EXACTLY can we do?

Build Websites
Site Audits
Fix broken or "under performing" Websites
Keyword Research
Content Creation eg written, graphics, videos
Improve your Search Engine and UX ( Visitor Experience)
On & Off Page SEO ( Search Engine Optimisation)
SEM ( Search Engine Marketing) eg Google Ads
SMM ( Social Media Marketing) eg Facebook/Meta Ads
Give you a "2nd opinion" on any aspect of your online presence eg Not sure IF you are getting the most from your Ads or SEO
We will review and advise.
More about us:
Maggie Holley is a former Sales Manager that has been studying and working in Online Marketing, SEO, SEM, UX and CRO  since 2009.
She has travelled the world working in many different countries and businesses. This gives Maggie unique insights into marketing across the Spectrum.
Read more about Maggie in Inc magazine
JumpStart's US based 'Domain Master' Alan has been living and breathing the internet for nearly 30 years, from every angle.
He has hosting, server, hardware and software experience …..and a math oriented brain! (Data Driven is an understatement)
JumpStart is selective taking on clients each year, as we partner for the long term.
Most of our clients have been with us for years, as we get results for them, so they can focus ON their real business.
What should you do now to get more results for your business?
Don't waste any more precious time- Book a Free Call!
OR if you need help fast- Book us for 30 mins! Schedule a Strategy Consulting Call  or Contact Us
or Call US to talk on 02 5698 5445