SEM with Google Ads (Adwords)
Google is always changing the rules ( for SEO in particular) so the best way for YOUR business or service to be found on those (SERP's) Search Engine Results Pages is to ADVERTISE
Organic Listing are VERY difficult to achieve these days!
Local SME (Small Medium Enterprise)businesses in particular can take advantage of Google Research on consumers( with up to the minute data) to market with Google Ads VERY effectively, yes, even for a very reasonable cost!
I've  passed the 'Advanced Search' exam for Google Ads several times and have been thinking of how best  to explain 'in a nutshell' why ANY business should (read MUST  & could) do SEM with Google Ads PPC (Pay Per Click) Campaigns !
In my opinion ( and many others) Pay Per Click advertising is ( 'bang for buck' )the best value for the cost of adverting on ANY channel… when done correctly.
People that know me may laugh to think of me at a loss for words.
I have been reading and found this in Google's own support area ( I took a screenshot)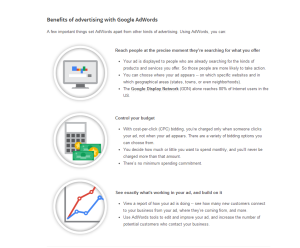 I keep hearing the average SME owner tell me that they "need SEO" (Search Engine Optimisation)
Well.. yes..But only after testing their offer in the market with SEM. That means Ads!
What is the benefit of Google Ads for my Site?
You do not know what IS working on your site until you do a Campaign in Ads.
Because what those 'visitors' ( aka traffic) actually do when they land on your site will tell you a great deal about your site's content , navigation and functionality
Then you also have some actual Data NOT guesswork, or clues as to what areas on your site need help with optimisation.
"What doesn't get tracked, doesn't get measured" –  the old saying is TRUE
Be prepared to write lots of content and record videos, as CONTENT is the driver for results
I cannot stress this enough.
I am going to try to start breaking down the essentials in regular posts on Ads & SEM .
In general, as if you are not using PPC with Google Ads in particular, you are missing out on the lifeblood of your business- potential clients/buyers!
Need to start Ads right now? Schedule a Free Strategy Call!