Content Creation Template
The First Questions to answer:
What is the goal of this Post or Page?
Which audience/ideal client is this page targeting?
What are the 3 main benefits you want them to know?
What keywords and phrases should you include?
What part of the 'buying cycle' or sales funnel is addressed here?
Template Breakdown: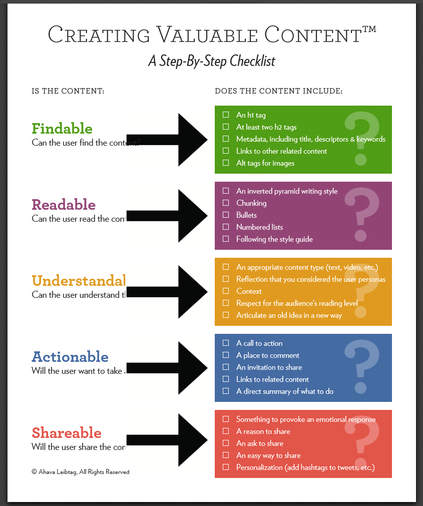 Your Headline or Title:
Should be a <h1> Tag
( Page headings and Titles are often used by Search Engines to rank a page and are assumed to be the main subject of your article and so are /should be given a separate attribute (tag) to the rest of the text on a page.)
Be clear and compelling
Include your primary keywords/phrases ( helps with SEO- Search Engine Optimisation.. more on this here)
Your First paragraph:
You should start with your conclusion first!
This is a must for your  content 'template'.
What is the ONE thing you want the person reading to understand after they've read your article?
Remember, the latest studies show most of us scan or skip through text so, if you do NOT grab their attention quickly.. they will not read on!
This one thing should be discussed in the first couple of sentences followed by a list of the benefits you will offer.
This paragraph should also have :
A CTA (call-to-action).
Benefit #1 should be <h2> so it will appear bolded and assist with SEO
Briefly and concisely summarise your first main benefit or solution, which will be discussed in the following paragraph
Remember to also include related keywords and phrases whenever possible.
Use bullets points to highlight features or add additional points.
Your next paragraphs will have :
Benefits 2 and 3 (and more, if you have them!) should be <h2> (or <h3> <h4>) tags as well-  and simply emphasise those benefits that you go on to discuss.
NOT forgetting the all important keywords that you have researched.
The Google Keyword Tool (soon to be the 'Keyword Planner') can help you here… but now ONLY IF you have a Google Ads account!
Note: DO NOT 'keyword stuff' ie place the same words and phrases over and over in your article. Google will penalise you for this now.
Back up your benefits with supporting points and where possible link to other highly regarded sources- if you have used them or quoted them for supporting evidence/information.
Word of Caution: Use outbound links very sparingly and ONLY to well regarded sites as Google is now penalising links that are lightweight or 'spammy'.
You again need your CTA (Call-to-Action) on the page here which will provide clear direction and focus as to where the reader should go next..AND what you want them to do!
(it should be on the page at least twice- possibly more, depending on the length of your post or page)
Images help your content, so try to add them wherever possible…. BUT..
They must be very relevant and always have 'alt text'.
This text explains to the Search Engines (and other programs) what that image actually represents or is, as they do not 'read' images as they do words. More on this here.
What are you waiting for? Get going.
OR
Get JumpStart to create your Content FOR you!
You do NOT need to write "War and Peace"… 300 – 500 words will do nicely.
If you write shorter articles, you can make them Parts 1, 2 and 3 and you will find that writing is easy!
Google rewards fresh and unique content, so instead of just re hashing other peoples content- write your own.
If all else fails, 'curate' the really useful articles you come across with a few well chosen words!
No idea about content creation? Book a Free 30 min call!