We've all heard that using graphics in your posts and content is highly recommended, with the average human attention span now at just 8 seconds according to a recent Microsoft study.
Whether it be infographics, videos, GIFS, screenshots and/or images, visual content is/could almost be considered a necessity.
As we quoted in an earlier piece on "Practical Blogging Tips" Neil Patel says in his article:
"..65% of people are visual learners, 90% of information that comes to the brain is visual and presentations with visual aids are 43% more persuasive.."
We suggest that, at the very least, you include a Featured image for all of your content, past and present ( if you haven't already)
It keeps your current readers engaged and may grab the attention of potential readers/followers. Desirable!
A Featured image is one of the more important graphics/ images you'll have on your Post, as it will be displayed alongside search results, links, on your home page and on Social Media feeds.
Just like this :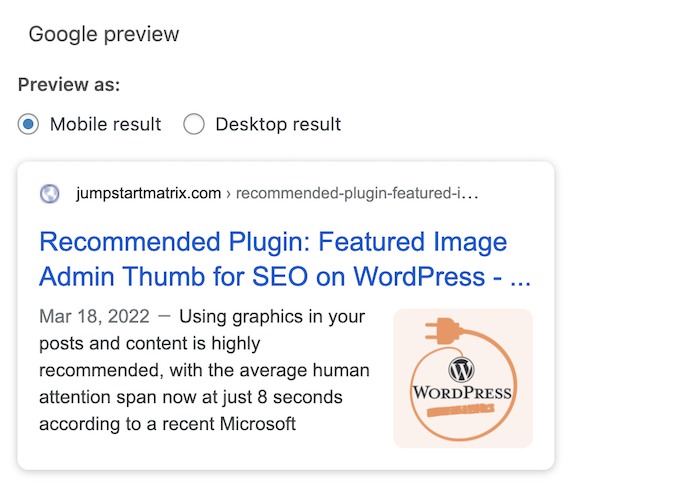 It needs to be good quality and relevant to the topic you're discussing
In our JumpStart Matrix WordPress Admin area, we can easily display the featured image for all of our posts with the Featured Image Admin Thumb.
It is available for installation now, on your WordPress site from the WordPress Plugins Page.
It can be used from version 3.5.1 and has been tested up to version 5.7.6.
Remember, installing and keeping any plug in up to date is best practice, now hacking has increased!
The creator of the plugin Sean Hayes has said:
"When active this plugin adds a column to the All Posts/All Pages and where supported the All Custom Post Type admin views.
This column, "Thumb", will display a thumbnail of the featured image or post thumbnail so you can easily determine the content that is missing an image.
You can also make inline edits that allow you to change the thumb/image from the All Posts/All Pages/All Custom Post Type view without having to edit the post."
Below are the instructions on how to install the Featured Image Admin Thumb onto your own WordPress site.
There are 2 ways to install it:
Using the WordPress Dashboard
Navigate to the 'Add New' in the plugins dashboard
Search for 'featured-image-admin-thumb'
Click 'Install Now'
Activate the plugin on the Plugin dashboard
Uploading In WordPress Dashboard
Navigate to the 'Add New' in the plugins dashboard
Navigate to the 'Upload' area
Select featured-image-admin-thumb.zip from your computer
Click 'Install Now'
Activate the plugin in the Plugin dashboard
Consider using a thumbnail re-generator to create specific thumbnails for the All Posts/Pages admin views
But, if you don't have the time, money or know-how, get the Team at Jump Start Matrix to do that for you! Contact us here
No idea where to start? Book a Free call today!

We hope you enjoyed this article, check back for more informative articles weekly!