LinkedIn Marketing Solutions
LinkedIn has a range of Marketing Solutions
To use LinkedIn Marketing you need to have created a LinkedIn Company Page .
Once you have that in place, you can select from a range of marketing options , depending on your objectives.
LinkedIn can be an effective tool to reach Key decisions Makers for your niche market!
Here's a brief overview:
Content Ads with  PPC ( Pay Per Click):
You can set up a Campaign with a series of ads, targeting keywords and pay each time someone clicks on your ads, after selecting your bids and daily budget.
This model work in much the same way as Google Ads (Adwords)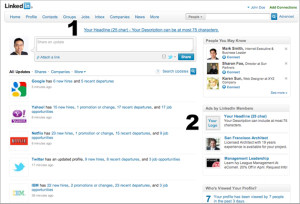 These ads display in different formats when your target audience visits various pages on Linked In.
They can also be s shown on Profile Pages, Linked In Home Page when signing in, Group pages, Search Results pages and  members Inbox Pages.
Linked in has a range of Display Ads as well as text only.( Read more on Linked In's FAQ's) See image for ad placement /types.
These newer updates work more to raise brand awareness and to share business content such as whitepapers and videos by displaying directly into the  home page content feed, even of people that are not following you directly.
These updates works across devices as well, like mobile and tablets.
The minimum ad spend is only $10 per day, which helps even smaller brands to start to use these updates in a targeted way.
Social Ads:
A range of ads that promote your Company Page with a logo, eg 'featured company' or 'follow company', ' recommend company'.
They serve to drive brand awareness and can deliver personalised messages to drive engagement.
Polls:
Ads as 'Polls' are also available with limits ie : Question can be up to 75 characters, with answers 30 characters each,with a choice of up to 5 ( 3 is the minimum.)
Sponsored InMail is another solution with one to one emails from marketers and agencies to Linked in members ….or 'target direct' emails to candidates for job openings (specific or non-specific roles), short professional courses & recruitment events.
For more information on JumpStart Matrix's range of LinkedIn Marketing Solutions Packages , please Contact Us with your information
Call JSM on 02 5698 5445
or
No idea about LinkedIN? Book a Free call today!