To create a Gmail address, you'll first need to create a Google Account.
Gmail will redirect you to the Google Account sign-up page.
You'll need to provide some basic information like:
your name
birth date
gender
location.
You will also need to choose a name for your new Gmail (email) address. Once you create an account, you'll be able to start adding contacts and adjusting your mail settings.
To create an account:
1.    Go to www.gmail.com.
2.    Click 'Create an account'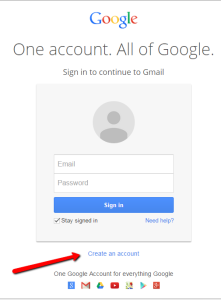 3.    The sign-up form will appear. ( see below)
Follow the directions and enter the required information eg your name, birth date, and gender. Remember to choose a strong password ie one that is difficult for someone to guess!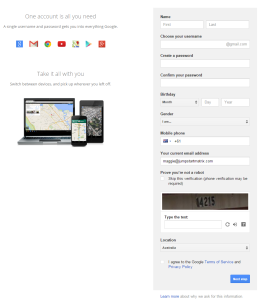 4.    Finally, review Google's Terms of Service and Privacy Policy (see the bottom of the screenshot above) click the check box, and then click 'Next' step.
5.    The 'Create Your Profile' page will appear. Click 'Add a Photo' if you wish to add a photo to your Google+ profile. If you don't want to set a profile photo at this time, click 'Next' step, as you can add the photo later.
6.    Your account will be created, and the Google 'Welcome Page' will appear.
7.    Once you have created your Google Account you need to go and get the Basic Ads Set Up and we will then set up your one hour Skype Consultation call.
NOTE: We will need your Google User name and password to set up an Ads account OR we can send a Link for you to accept us a 'Client managers' for the Google Dashboard known as the' MCC' to start your Ads account, if you already have one.
We can either have you call us immediately with that information during business hours or get the information from you on our Skype Call or Free Consult
Call Maggie on 0433 823 763 or Schedule a Free Consultation Call
OR you can hire us to do Create your Google Account for you from scratch and immediately start the Basic Google Ads Account Set Up!
Note: Google is always changing its GUI ( Interface)  or the " look and feel:" of their Sign up.
If you have any questions on this process- Contact us!